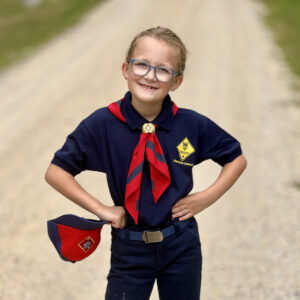 Gamehaven Scout shop is your official source for Scout uniforms, position patches, handbooks, pinewood derby, eagle party supplies & gifts, and advancements for Cubs and Scouts BSA. Our store may be small but we carry what each Scout needs when they join Scouting. When new parents come in to get Scout uniforms, rest assured that the staff can help you with what is needed. The only thing we need to know is what pack/troop number your Scout signed up with.
The shop is located at 607 E Center St. in Rochester, MN. If you have any questions please call us at 507-287-1410.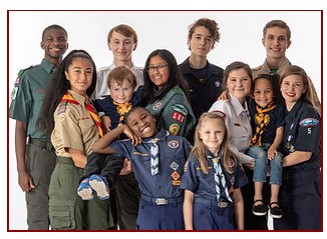 Current Office Hours: Monday- Friday 8am-5pm. We do close the office each day from 1-2pm in order to do lunch & errands.
         Special Saturday Hours:
On Saturday, 

September 16, 2023

– The Scout shop will be open from

10am-2pm

to help parents with uniform needs.

On Saturday, October 7, 2023 – We will have a uniform purchasing area set up across from the Pavilion at Gamehaven Camp from 10:30am-1:30pm. This will be happening during the Fall Cub Scout Adventure event. Gamehaven Camp is located at 5015 Simpson Rd. SE, Rochester MN 
Holiday Office Closings for 2023-2024
September 4, 2023- Monday- Labor Day
November 10, 2023 – Friday- Veteran's Day observance
November 23 & 24, 2023 – Thursday & Friday – Thanksgiving Holiday weekend
December 22 & 25, 2023 – Friday & Monday – Christmas Holiday
December 26 – 29, 2023 – Office Closed for winter break 
January 1, 2024 – Monday – Closed New Years Holiday
January 15, 2024– Monday- Martin Luther King
February 19, 2024– Monday, President's Day
March 29, 2024 – Friday, Good Friday Observance
May 22, 2024– Monday – Memorial Day
June 19, 2024– Wednesday – Juneteenth Observance
July 4, 2024– Thursday – American Independence Day
September 2, 2024– Monday- Labor Day
November 11, 2024- Monday- Veterans Day observence
December 24 & 25, 2024 – Christmas Holiday
December 26-31, 2024 – Office closed for Winter Break & inventory 
January 12, 2025 – Wednesday, New Years Holiday
Online Ordering for Store Pickup
Need us to assemble an order on your behalf for "store pickup" or " to ship to you"? You can email either Barbara Swan or Pam Legried at the office. If you are a parent, list the items you need and sizes. If you are a leader getting advancement please make sure you attach a purchase order and the advancement form to your email. Always, have a phone number so that we can call for payment.
A Signed advancement form is required for any rank advancement. We cannot sell any rank advancements without a signed advancement form.  If you are using Scoutbook, both the purchase order and advancement form can be included when you are ordering.  If you need an advancement form please click this link advancement form.
If you are a new unit, you may wish to set up a unit account at the Scout Shop. Complete the unit account application form, then make a deposit in your unit's account so that you can charge orders to this account.  This method is convenient to units who wish to call in an order and pick up or have it mailed (shipping charges will be added)  This account operates like a checking account; which must have money in account in order to make charges against it. 
Established Unit Accounts
Many of our units already have established accounts at Gamehaven Council for the purchase of advancements or the payment of events that the unit may need.  As leaders move on to other things, it is important that the information on who can use the account and who is the treasurer stays updated. If a person is a new leader they cannot use the account unless there is someone else on the unit account that can verify their need to use the account. We encourage units to update this information annually. If you have questions please call the office at 507-287-1410 and speak with Barbara or Pam.